All accounts that include a Live Stream also include a digital hardware encoder. This headless (no monitor required) appliance resides in your network to deliver your live media to the CHAMP servers, while giving you the flexibility to manage your stream from the cloud.
| | |
| --- | --- |
| Power: | 115v, same as any desktop computer |
| Internet: | RJ45 Wired Ethernet |
| Video: | HDMI or SDI |
| Audio: | Included in the HDMI/SDI signal (we can help if it's not) |
| Bandwidth: | 2Mbps upstream bandwidth per channel |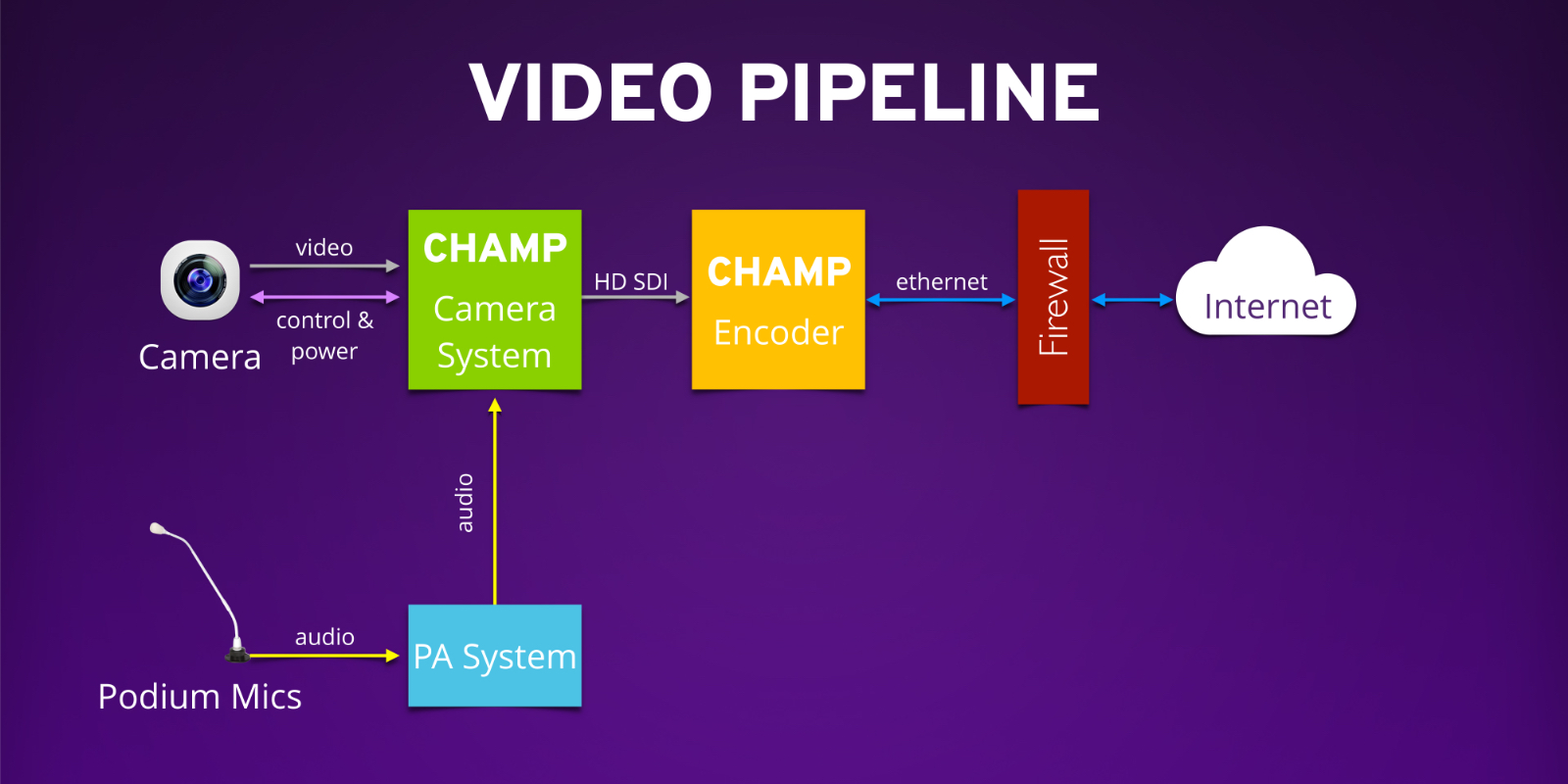 We will walk you through everything step-by-step but here is what the process looks like.
01. Executive Session
The first step is to schedule a brief overview to walk you through how to integrate your new video streaming service into your network, web site and workflows. The Executive Overview is done online and takes approximately 30 minutes. The goal of this meeting is to provide a high level overview and to get buy in from all key stakeholders.
02. Hardware Forms
At the completion of the Executive Summary, we will send you a form for you to complete for your new hardware. The form simply provides us with the necessary network information to finalize your hardware.
03. Hardware Built & Shipped
Once we have received your completed form, we will then build your new hardware and ship the equipment directly to you. The build process takes a couple of days and shipping is done via USPS and usually takes 2-3 business days to arrive.
04. Encoder Setup
Instructions are included in the packaging, but once your hardware arrives, you simply plug it in and turn it on! We will remotely log into the machine and run any final configuration options when we see that the hardware has been enabled.
05. Hardware Training
With your hardware now in place, our next step will be to schedule training with you and/or your staff. Training is conducted online via a lead discussion and takes approximately 1 hour. We will walk you through all the major features of the software and take you step-by-step through the workflows for publishing your media online. When training is completed, your login information will be provided and supporting documentation as well.
06. Publishing Tools
During our training session, we will review the various publishing options available. Based on your choices, we will then customize your Live player(s) and VOD Archives to match and integrate with your web site.